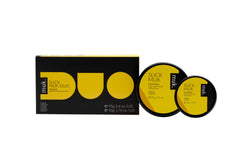 muk usa
Slick MUK Pomade Duo
95g + 50g Travel Size Duo Pack
Strong Hold. High Gloss Pomade.
Offers maximum style hold with maximum shine.
This pomade never dries and remains flexible offering a sleek, wet look and polished finish.
Humidity resistant.
Never flakes.
Water soluble.
HAIR TEXTURE: Medium to Coarse
SOLUTION: Frizz Control, High Shine, Smoothing, Strong Hold Styling
DIRECTIONS: Apply to completely dry hair to achieve maximum hold, definition and high gloss finish. Emulsify between palms until completely clear prior to applying to hair. For extra hold, style can be locked in with muk Hair Lacquer.