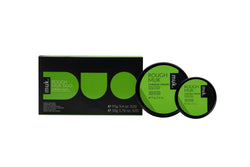 muk usa
Rough MUK Forming Duo
95g + 50g Travel Size Duo Pack
Flexible Hold. Natural Sheen Cream.
A smooth paste that spreads and works easily through the hair.
Creates flexible hold, definition, soft light texture and a natural shine finish.
Ideal for creating separation on longer hair, thickening fine hair and defining curls. Humidity resistant.
Never flakes.
Water soluble.
HAIR TEXTURE: Fine, Medium to Coarse
SOLUTION: Frizz Control, Shine, Smoothing, Definition, Flexible Hold Styling, Humidity Resistant
DIRECTIONS: Apply to completely dry hair to achieve maximum hold, definition and high gloss finish. Emulsify between palms until completely clear prior to applying to hair. For extra hold, style can be locked in with muk Hair Lacquer.