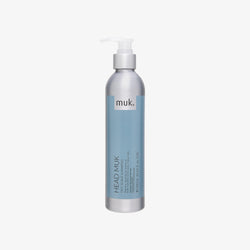 muk usa
Head MUK Oily Scalp Shampoo
Head Muk Oily Scalp Shampoo 
For oily scalp & dry ends. Gently eliminates scalp oil & controls sebum production.  Green apple fragrance.
Key Features:
No harsh stripping. Gentle, color safe formula. 
Protects & nourishes dry sensitized ends. 
Suitable for all hair types. 
HINTS & TIPS: Pour a small amount of shampoo, about a teaspoonful, into your palm. Massage the shampoo gently into the hair roots with the fingertips, covering the whole scalp. Start at the scalp and work through to the ends. Massage with the flat of your hand, this shouldnÍt take too long, as shampoo need only be in contact with the hair for half a minute to clean thoroughly. Rinse your hair thoroughly with lukewarm water. For optimal results follow with your favorite muk conditioner.