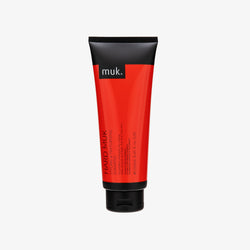 muk usa
HARD MUK STYLING & TEXTURIZING SHAMPOO
Hard Muk Styling & Texturizing Shampoo
This dual impact shampoo gently cleanses the hair and scalp to help eliminate build-up and excess oils. The shampoo has been formulated with a combination of ingredients and proteins to help strengthen and thicken the hair. 

Key Features:
Adds grit and texture to the hair
Ideal for shorter styles or layered hair, it provides a foundation for styling. 
Cruelty free formula.
HINTS & TIPS: Apply to damp hair, massage briefly and rinse. For added texture benefits leave on the hair for 1-2 minutes. Rinse well. Conditioner not necessary. Great as a body wash. Tight lock tube great for the gym bag.