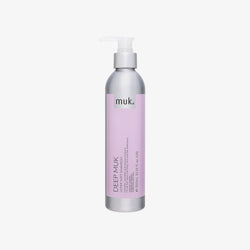 muk usa
Deep MUK Ultra Soft Shampoo
Deep Muk Ultra Soft Shampoo
Hydrating shampoos DO exist! Well at least for muk they do. Our deep muk ultra shampoo cleanses while hydrating to give you a great foundation to further hydrate with our ultra soft conditioner. 
Replaces lost nutrients and moisture and is suitable for all hair types. 
Leaves hair silky, soft, & shiny.

Gentle enough for everyday use.
Cruelty free. 
HINTS & TIPS: Pour a small amount of shampoo, about a teaspoonful, into your palm. Massage the shampoo gently into the hair roots with the fingertips, covering the whole scalp. Start at the scalp and work through the ends. Massage with the flat of your hand, this shouldn't take too long, as shampoo need only be in contact with the hair for half a minute to clean thoroughly. Rinse your hair thoroughly with lukewarm water.