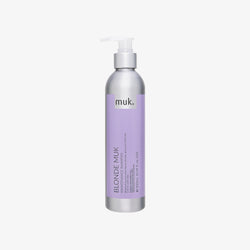 muk usa
BLONDE MUK MAINTENANCE SHAMPOO
Blonde Muk Maintenance Shampoo
Our blonde maintenance shampoo is the perfect addition to your blonde hair regimen. It gently cleanses as it nourishes hair, leaving it soft, shiny and toned while finishing off with our lovely cantaloupe fragrance.
Reduces brassy, yellow tones in blonde hair.
Hydrates hair that has been damaged from bleach.
Cruelty free. 
HINTS & TIPS: Pour a small amount of shampoo, about a teaspoon, into your palm. Massage the shampoo gently into the roots with your fingers, covering the entire scalp and working through to the ends. Use more shampoo if required. Massage with flat of your hands. Rinse thoroughly, repeat, and leave in for up to 5 minutes. Follow with Blonde Muk 1 Minute Maintenance Treatment.